My husband is taking over the blog to share his review of Halloween Horror Nights at Universal Studios Orlando. Ryan enjoys a good scare (he actually finds it comical) unlike me. So he visited nearly all of the 2019 houses while we were in Orlando last month. While he did that, I watched the new show in Hogsmeade. More information about that below. Take it from here Ryan.
Stay and Scream
Given that this was our only trip to Orlando during Halloween Horror Nights, I wanted to maximize my time as much as possible. The best way to do that is by being in the park before it closes and checking in at one of the staging areas that they have while they transform the park. I decided to go to the Springfield staging area which is toward the back of the park. Typically, during Stay and Scream, they will release everyone from the holding area early, which will allow you to complete a few houses before any of the nighttime guests even enter the park. We were released from the staging area around 5:30 PM and I chose to head toward Universal Monsters.
The Houses at Horror Nights
Universal Monsters
Once we were released from the holding area at 5:30, I entered this house about 5:45 PM. This house was based on your classic movie monsters like Dracula, Frankenstein, Wolfman, and the Creature from the Black Lagoon amongst others. It was very detailed, not too scary but a lot of fun. I would say it was a middle of the pack house.
Depths of Fear
This house is about an underwater base that is attacked by some kind of creatures. It wasn't all that scary. The detail was so-so, the creatures were kind of fake looking, and I just wasn't too into it. This one was definitely toward the bottom of my list.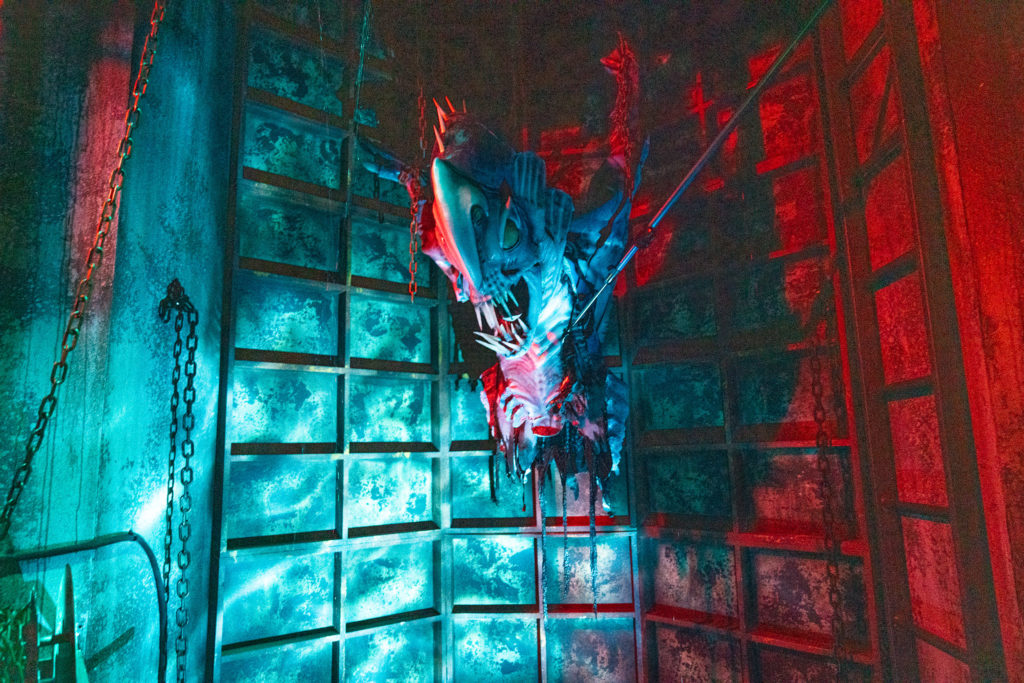 House of 1000 Corpses
Anyone that knows me, knows that I love this movie. I've probably seen it a hundred times. This house did not disappoint. From the beginning, it was like you were walking through the plot of the movie starting with Captain Spaulding having just "subdued" a couple robbers at his gas station, to Fishboy, to the ending with Rabbit suits and running for your life from Dr. Satan. Run Rabbit Run! Definitely, one of my favorite houses during this year's Halloween Horror Nights.
Graveyard Games
This one surprised me a bit. It is about a couple kids playing around in a graveyard, and they awaken something evil. You sort of get to follow them while you are waiting in line to get into the house, because there is a Facebook feed being projected onto the side of the building detailing what they are doing. This one was fun, it gave me a few laughs especially the Facetime with one of the kids mothers toward the end of the maze.
Ghostbusters
I am a child of the 80's, so obviously I love this house. It has elements from both the first and second movies. The scare actors were phenomenal, especially the ones playing Dana (Sigourney Weaver's character) and Jeanine (Annie Potts character). My favorite scenes were the Ghostbusters fighting Gozer and the Stay Puft Marshmallow Man.
Yeti: Terror of the Yukon
This house was funny to me. The actors did really well, but it just wasn't a scary premise to me. The Yeti was attacking people in a logging camp and, I don't know, it was just ridiculous. I did like that this house was cold though.
Us
I feel that I should tell everyone that I have not seen this movie other than about 10 minutes watching over someone's shoulder on an airplane. So I didn't quite know what to expect. The majority of the time, I didn't know what was going on. The scariest part was the end where a lot of people were lined up and randomly jumping out at you. I probably need to watch the movie.
Killer Klowns from Outer Space
I haven't seen this movie either, but I want to after going through this house. When you walk into this house, it smells like popcorn. Occasionally, random clowns want to fight you… I guess. There is a giant clown at the end. I was laughing through half of this house.
Nightingale's Blood Pit
This one was kind of neat. You enter into the underground area of the coliseum in ancient Rome, and gladiators are being attacked by nightingales. This was fantastic. Kind of scary and very engaging. The scare actors were going all out in this one.
Stranger Things
I didn't go through this one.
Final House Rankings
House of 1000 Corpses
Ghostbusters
Graveyard Games
Nightingale's Blood Pit
Universal Monsters
Killer Klowns
Yeti
Us
Depths of Fear
Scare Zones
I didn't spend too much time in the scare zones besides going through them quick to get to the next house. I will say that I did enjoy the Rob Zombie section and the Zombieland section. They were themed really well, and the scare actors were playing their parts well.
Overall, I had a great time. I've visited before during Halloween Horror Nights, and I really enjoy it. Universal Studios does a great job with the theming, details, and scare actors. If you are looking for a one stop sort of place for Halloween, this is it. While I enjoyed the houses and horror, Lauren was over at Hogwarts. She'll tell you about that below.
Hogwarts Show
The Nighttime Lights at Hogwarts Castle is a magical show featuring lights and music. This year Universal introduced a new Halloween show that highlights the Dark Arts. The show, which begins around dusk, is a wonderful addition. As a Harry Potter fan, this show is worth sticking around for. You may also come into contact with an actual Death Eater. This show is smaller in scale and shorter than the show at Magic Kingdom, but it's just as good. It really all depends on what you like. We highly recommend all of the projected shows we've seen thus far at Universal Studios and Disney.
So that about wraps it up for Ryan and I. We may have one more fall activity post to share, but I'm not sure (it might rain during our next activity). We'll start talking about Christmas next week. Stay tuned.