The board and batten accent wall is complete. I'm absolutely in love with it, and it was the right decision 100%. It's magic when something comes together perfectly.
With the installation of the trim, we were able to further distinguish the entryway and living room as separate zones. As you'll see in the next photograph, our front door opens into the living room. The light bounces off of the bright white trim and lightens the entire space. The white paint also camouflages the return vents better. Lots of wins!
I'm not quite done with the entryway, but it's very close to complete. I've ordered a pair of beautiful hooks to hang on the wall, behind the door. When the door is closed, I feel like there's a large blank space longing for something. I think these hooks from Room & Board will be the perfect solution. (I ordered the charcoal color)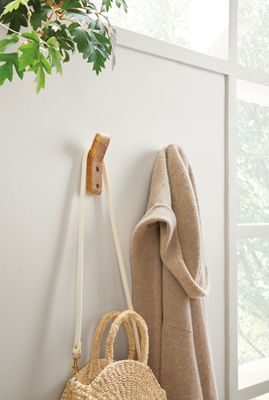 I'm also going to add a touch of blue, which will coordinate with the rest of the living room. I'm so excited to be nearing the finish line. I hope to share the final result very soon. I'll also share an update regarding the runner I purchased from Ruggable. So far so good.
If you're looking for details regarding how to install the board and batten look, click here. The link includes photos, measurement tips, and helpful links. Until next time, have a wonderful week.
Strut Console Table | Wall Mirror | Kiwi Bird | Runner | Lati Vase