I like to occasionally share spaces that inspire me. Thanks to the internet, it's easier than ever to find inspiration. There are so many beautiful spaces out there, and they deserve every bit of attention. I've rounded up my recent favorites for you to enjoy. There's no better time to look for inspiration than when it's cold and you're sick. (Side note: I'm doing much better) I'm sure many of you are also experiencing one or the other. Enough small talk, let's look at some pretty images!
Those windows are absolutely amazing! Can we just take moment to envy that view? The black windows and door contrast with the white shiplap so beautifully. This space really brings the outdoors in with the unobstructed windows, arranged flowers, and natural fireplace. It's a large space, but it feels super cozy. (Tip: In neutral spaces, mix textures and finishes to create interest.)
Emily recently revealed the media room at the Portland project. If you aren't following Emily and her team, what are you waiting for? This room is clean, a bit coastal, and full of surprises. I love the different pops of color against the blue walls. Even though the wall color is darker, there's plenty of light thanks to the windows. The white ceiling also helps reflect the light and add a coastal flair. Those lights are amazing by the way. (Tip: Choose one prominent color and use a couple of accent colors throughout the space.)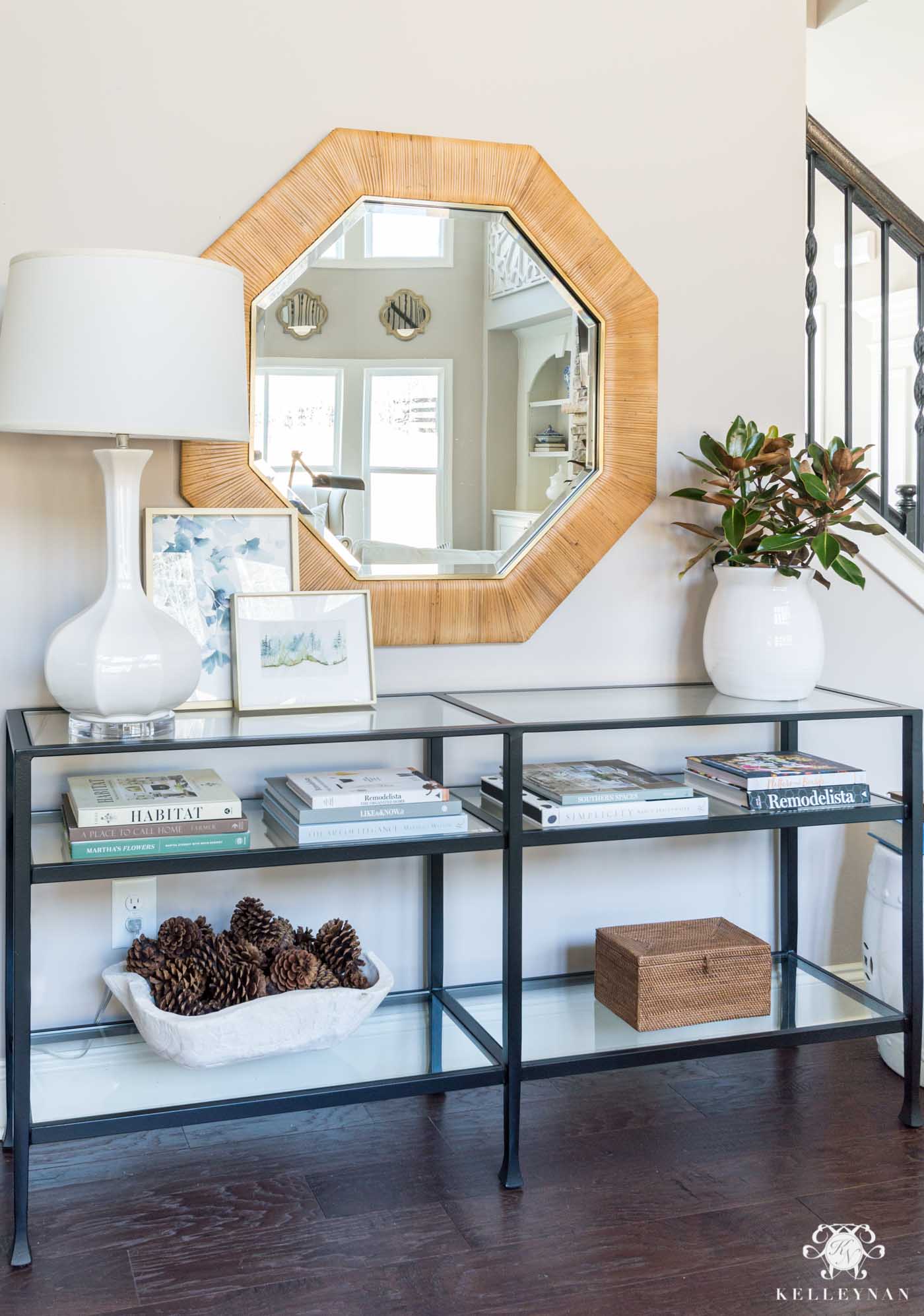 Another great blog to follow is KELLEYNAN, and I love this console table. I mean the entire space is beautiful, but this particular photo caught my eye. It's just the right mix of stuff. I personally can't stand clutter and can appreciate the clean look. The mix of creams, blues, and natural tones create a stunning look in contrast to the darker floors. (Tip: Books make for great decor. You typically already have some, bonus!)
I'm dreaming of a kitchen remodel, and this kitchen continually stops me in my scroll. The counters and cabinets are a perfect match. The floating shelves add warmth to the space. There's also plenty of shiplap, which you know I love! The colorful art to the left of the window adds a pop of color and surprise. (Tip: Always add an element of surprise to a room. It's a great conversation starter.)
Is inspiration running through your veins? I hope these photos and tips inspire you to create a space you love. You don't have to renovate an entire room. Start small by restyling a bookcase or adding some greenery to your bedroom. Tweaks here and there can make a big impact over time. Have design questions? Comment below.
Happy Valentine's Day!