If you're like me and obsess over maintaining a clean home, living with pets can be challenging. The only way we manage to maintain a clean home is with the help of the products below. Please note these are just my personal recommendations based on my own experience. Great products can make your life much simpler. Most people don't even realize we have a bunch of furry friends. I'm pretty proud of that!
Dyson Animal Vacuum 
Before we bought a Dyson, we went through a vacuum a year. We can't live without our Dyson! My favorite features include: suction, the ability to vacuum both hardwoods and carpet, it's easy to clean, and includes a variety of helpful attachments. I vacuum our rugs, drapes, baseboards, furniture, and more.
Neater Feeder
Tired of your pet making a mess with their food and water? Well I've got the perfect product for you, the Neater Feeder. If any water is spilled, the water goes to the bottom as illustrated in the picture. Food crumbs typically gather around the bowls unless you pet takes a bite and walks off. Our cats like leave trails of crumbs, but this product has helped tremendously.
Scotchguard  Carpet & Fabric Protector
In addition to fabric, we have several rugs around the house. Pets have accidents just like children. The best way to protect your items is by spraying them with Scotchguard. It really works. I spray everything that could possibly be ruined by a hairball. I typically only have to spray 2-3 times per year. Once you spray the item, you let it dry before vacuuming the excess. It's really that easy.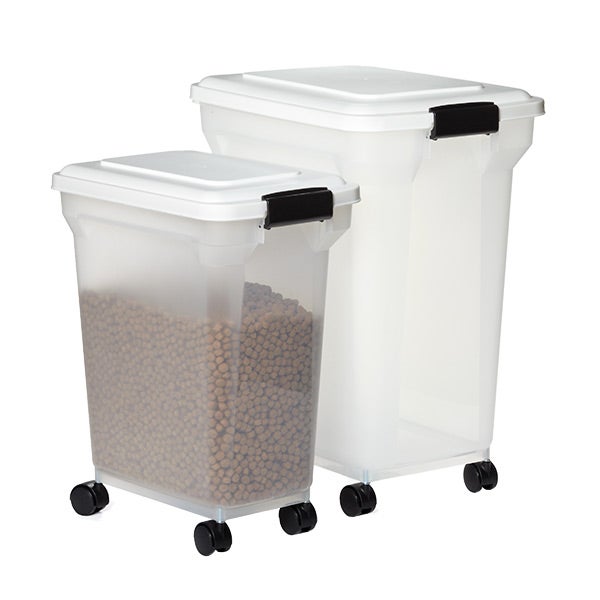 Iris Pet Food Containers 
These are great containers. I like that they roll and can easily be hidden. I have one in the closet and another under some cabinetry.
Here are some tips to help you keep your home clean and your furry friends happy.
Purchase and use a purifier on a regular basis. It helps eliminate odors and cleans the air. That's better for both you and your pets.
Use essential oils in a diffuser to help with any odors. Candles are simply toxic.
Keep a variety of lint rollers in a drawer. No matter the vacuum, it's not going to get every hair. I have travel size rollers for smaller areas and x-large rollers for bigger pieces.
Get into the habit of tidying up regularly. The longer you wait to clean up a mess, the worse it will be for you.
If you pet is scratching trim or furniture, try rubbing an orange scented oil or spray on the trim. It doesn't always work, but it can deter them. You'll have to do it regularly for it to be effective.
Brush your pets as often as possible. I know it's recommend to brush them daily, but it just doesn't always happen.
Do you have a favorite product or tip? Share yours in the comments below. I'd love to hear from you. If you haven't seen the Cat Room, click here. Our cats are spoiled.
Happy 5th Birthday to the one and only Annabelle. She is a pure joy and life wouldn't be the same without her.